Introduction to Bhatbhateni supermarket
Bhat-Bhateni supermarket and department store was founded by Mr. Min B. Gurung in 1984, which provides a unique shopping experience like none in Nepalese market. Bhat-Bhateni was first introduced as cold store and later on turned into a small department store and finally a supermarket. Today, Bhat-Bhateni is Nepal's leading supermarket and departmental store chain, spread out in Kathmandu the capital city and economic hub and in all major cities around the country. Bhat-Bhateni has a combined 1,000,000 sq. ft. sales area across its 16 locations and employs 4,500 plus full-time employees 95 percent of who are women. Bhat-Bhateni is one of Nepal's most trusted brands and sees a daily footfall of over 100,000 patrons.
Bhat-Bhateni serves a wide range of product which includes products ranging from groceries and fresh produce, cosmetics and toiletries; a broad range of national and international liquors ; to extensive choices of kitchenware clothing apparels sport goods toys and electronic gadgets which makes it a one stop shopping complex . Bhatbhateni also making CSR as a core part of a business maintaining a good relationship with Customers and suppliers. It has been offering free insurance, medical treatment, fooding and transportation to their staffs whereas free home delivery, guarantee/warranty on products, exchange, club cards and discounts to each and every customer (Bhat-Bhateni Supermarket and Departmental Store, n.d.).
With a meteoric growth over the past 35 years Bhatbhateni remains committed to improving the shopping experiences and expanding its store locations all over the major cities of Nepal. So far Bhatbhateni super stores are located in following places.
(2008)Maharajgunj, Kathmandu
(2011)Koteshwor, Kathmandu
(2011)Boudhha
(2011)Pulchowk
(2012)Pokhara
(2012)Newroad
(2013)Baluwatar
(2014)Anamnagar
(2014)Balaju
(2014)Kalanki
(2016)Bharatpur, Chitwan
(2016)Dharan
(2017)Butwal
(2017)Bhaktapur
(2018)Biratnagar
(2018)Nepalgunj
Mission and Vision
Mission statement refers to the fundamental purpose that sets an firm apart firm other firms of its type and identifies the scope if its operation in product and market terms. BBSM doesn't have formal mission statement. It is most interested in the customer needs through providing the varieties of products and services under the same roof. Bhat-Bhateni continues to be a leader in corporate responsibility and employment opportunity.
It is the commitment to creating opportunities and bringing value to customers and communities around Nepal. The Customers Products and services Markets Technology Concern for survival and growth Philosophy Self —concept Concern for public image Concern for employees Evaluation of mission statement Bhat-Bhateni supermarket's mission statement has components such as concern for public image, concern for employees, philosophy, self-concept customers. As the mission statement is clearly shown their concern for the CSR, creating opportunities for the employment and value. Indeed the mission statement of BBSM is a good mission statement.
The mission statement "To be the most admired company of Nepal by providing the best quality products and services, saving customers time and money by delivering a convenient shopping through our competent employees with remaining the market leader and being good stewards of our environment."
Vision refers to the long term aspiration if management fir its organization. It is all about predicting the likely scenario for the next 10 to 30 years
The vision statement for BBSM could be:
"To be the most admired retail chain by retaining our no 1 position in Nepal"
Objectives
Being the top leader in the retail industry, Bhat-Bhateni supermarket and department store has some major objectives to be fulfilled;
To generate job opportunities for 50,000 plus people in coming 10 years.
To expand its outlet in all growing cities of Nepal.
To provide maximum access to the customers
Environment affecting the industry
The internal environment of BBSM as controlled by the Strategic Units and Business Units. The can be controlled and manipulated by the executives. However, the external environment that affects the industry can be unfavorable to the retail business.
1) Financial Crisis
Most of the business affected by financial crisis. There are different types of financial crisis, like; natural calamities, recession, country lockdown. The effects of inflation are also visible. Supermarkets might get difficulty in buying and selling goods.
2) Government Policy/Law
The Government of Nepal change time and often. Their policy regarding economy have been different and this lack proper budget policy. The recent example being increment business tax system. In this way super market may difficulty paying big amount of tax to government.
3) Market Competition
There are many competitors of BBSM in the market like, Big Mart, Sales Berry, and KK Market etc. Due to high market competition there is increase and decrease in sales target of BBSM. Sometimes competitor's brands might get down due to high popular company. It will be more challenging to Bhatbhateni to maintain its Cost price leadership strategy
But still, Bhatbhateni has monopoly situation regarding its stature as a supermarket in market competition.
4) Political Instability
Most of the business is affected by political instability. The constant shift in the optical leadership and administration directly affects the business units. Each shift has to be dealt with the modifications in the strategy of the business tactics.
5) Location
Location plays a vital role in the business for organization. If they could not get prime location, they may lack effective sales. So it's important for supermarket to target their prime location so, that they can make huge sales and profit.
6) Product Pricing Strategy
Most of the supermarket firms choose to positive themselves by offering either everyday low price across several items or offering temporary price reduction on a limited range of items.
Major brands have struggled to maintain sales. Part of the reason is shoppers switching to hard discounters, that focus on private label ranges. The other reason is that shoppers are generally satisfied with private label ranges and have not switched back to branded ranges post Bhat Bhateni Super Market. This could be due to a general increase in the quality of private supermarkets. BBSM are preparing good sales strategy to maintain their brand loyalty in the market.
However, the country has been affected by COVID-19; the super markets are making good preparation in their sales strategy for the customer satisfaction and earning profit. Also, online shopping is not hampered somehow at this pandemic; they are still running their business in the market.
PESTEL analysis
PESTEL is an external environment analysis framework that helps guide prospecting in the political, economic, social, technological, environmental, and legal spheres of an organization's external environment.
Political Environment
In an unpredictable political scenario of our country, where government change occurs in an average of 2 years' time, making it difficult in adjusting with the government policies. Nepal has stable government now and it a good sign which might help retailers like Bhat-Bhateni to expand by providing facilities. As such, Pressure from trade unions associated with various political parties has also decreased. Adjusting with the political situation plays a vital role for both these supermarkets.
Economic Environment
Bhatbhateni supermarket is planning to open new stores in various parts of the country. For the expansion purpose it requires more capital, as the new changes in monetary policy Bhatbhateni might have to bear some extra burden. Similarly, inflation rate of about 6.7% as and signs of slow down of remittance will have an adverse impact on the consumption pattern of the country. More than 70% of the products come from India, but impact due to unpredictable pattern of terrain political issues causing strikes, stringent boarder customs impact sales.
Socio-culture
Environment Bhatbhateni aim is to provide varieties of products at one place. Customers are more conscious than ever, they want quality products at the lowest available rate. There are various economic groups and Bhatbhateni supermarket must bring different varieties of product to cater their demand. With the increase in purchasing power and demonstration effect people nowadays prefer to pass their leisure time by visiting shopping mall and departmental store more often.
Technology
Technology provides more efficiency and security to the supermarket. With the advancement in technology we have different payment system. Products are well secured with high tech security system installed in the products. The billing system, payment through cards, CC cameras, computers etc. are the some of the technologies used in Bhatbhateni supermarket and Departmental store
Environmental
Supermarket and Departmental stores must be more environments conscious. It is also the responsibility of the business to protect the environment from pollution. Taking environment into consideration, Bhatbhateni has brought in new system about not to use plastic bags and use alternative local bags.
Legal
Supermarkets must follow the legal actions. There are various law such as consumer law, labor law, quality and safety standard which the organization has to comply with. Supermarket and departmental store should not engage in black marketing activities and artificial scarcity.
Porter's Five Forces Model
Porter's five forces model introduced by Michael E Porter, is an important tool for assessing the potential for profitability in an industry. Porter's model considers five forces that determine the attractiveness of your market by analyzing the competitive intensity. These forces determine an industry structure and the level of competition in the industry. The stronger competitive forces in the industry are the less profitable it is. An industry with low barriers to enter, having few buyers and suppliers but many substitute products and competitors will be seen as very competitive and thus, not so attractive due to its low profitability. The five forces we have determined for Bhatbhateni supermarket (BBSM) are as follows: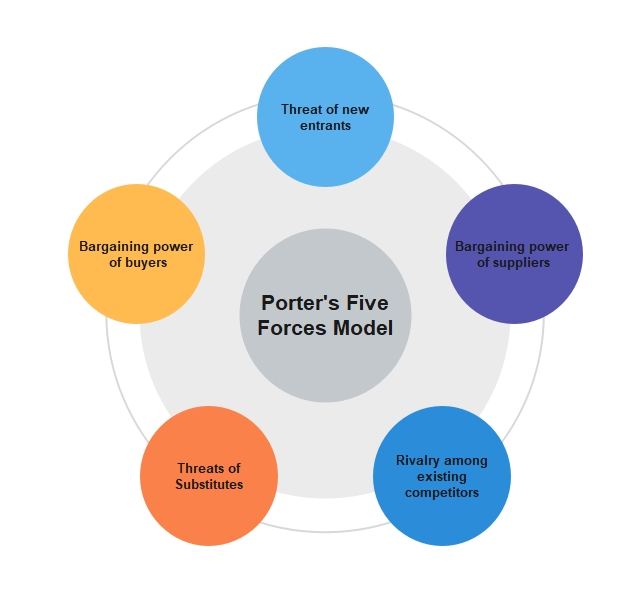 Threat of new entrants
The Nepalese market has seen a wide trend to venture and follow a boom in any retail sector. New entry of retail outlet/supermarket is easily achieved even in the presence of pioneer like BBSM. Retailers can enter the market and compete on the basis of convenience, location, specialty, and other factors. The market competition of BBSM is the retail shops and outlets. While it is easy to open a small retail shop. It will be a challenge to enter the market as a parallel competitor of BBSM comparing its size and capacity. The forces affecting threat of new entrants are as follows:
1) High threats of entrance
The cost of establishing and running a new supermarket is moderate. Thus, new entrants can keep operating and become potential threats to firms like BBSM.
FDI policy is favorable
The Foreign Direct Investment policy of the country is very favorable and it always welcomes the investor in the country which acts as a biggest threat for BBSM.
Liberal government policy
Since, our country is somehow near to free market economy; it encourages both government and private sector for investment. The monetary and fiscal policy of the country is business friendly that allow the entry of new supermarket.
2) Threat of substitutes
The threat of substitutes has weak intensity in affecting the retail industry environment. BBSM offers a wide variety of goods and services under one roof that has few substitutes. The forces affecting threat of substitutes are as follows:
• Low variety of substitutes
The low variety of substitutes makes it difficult for consumers to move away from products available from supermarket like Bhatbhateni. Also, some substitutes are more expensive than the low cost goods available at BBSM. Thus, the threat of substitutes has a weak intensity on BBSM.
Location
BBSM is opened at center in every city area and customers can get variety of products under one roof.
3) Bargaining power of buyers
BBSM faces the strong or high intensity of the bargaining power of buyers. The large number of retailers in the market makes buyers to switch the product if they find it more expensive. The forces affecting bargaining power of buyers are as follows:
Customers are price sensitive
BBSM offers low to moderate priced products typically focusing on their price sensitive customers and time and again they provide various schemes offers. So, customers want BBSM as their shopping spot. Apart from this if customers find the product to be more expensive they can switch to other retailers.
Availability of more choice
Customers do not have to search more for any product because BBSM offers a diverse range of products. It saves the searching cost and time. We can get variety of products under one roof.
Fixed price paid by customers
Customers can't bargain at BBSM because there is a fixed price tag on the product. So, on the basis of that customers take his/her purchasing decision.
4) Bargaining power of suppliers
The bargaining power of suppliers is weak in BBSM. Every supplier wants to display their product in Bhatbhateni even at low profit margin to make customer aware of their product. Bhatbhateni have several suppliers as its option and it offers a full range of 120,000 products from 1000 local and international suppliers.
5) Rivalry among existing firms
BBSM is a single firm of this type in retail industry in Nepal but, despite of this there are many competitors in the market like: Big Mart, Namaste supermarket, Sales ways, CG Mart, etc. The factors affecting rivalry among existing firms are as follows:
• Competition in similar products
BBSM got more competitors that offer similar kind of products like Sales ways, Big Mart, etc.
Premium priced products
Competitors offer low priced products in order to increase their sales volume in the market.
Strengths of Bhatbhateni over its competitors
Maximum number of varieties: People prefer those places where they can get the maximum products they need and Bhatbhateni provides vast range of products under one roof helping in attracting customer and their family to shop together and enjoy the experience. This is the main strategy of Bhatbhateni "All in one". Due to its high infrastructure. It houses a huge selection on items and supplies.
High brand equity: Bhatbhateni has created high brand equity through its promotions and marketing it has created a different image for its products as the low priced and best in quality.
Largest chain of retail marketing in Nepal: Bhatbhateni is the one of the first private retail chain to be started in Nepal and is the largest and successful until now. The close competitors are Big Mark mart.
High capacity investment: Bhatbhateni offers more than 70,000 products and owns 16 retail outlet in Kathmandu and major cities. It has developed strong financial background as retail outlet. It has developed an aggressive expansion plan which signifies its high investment capacity.
Strategies of BBSM
1) Corporate Level Strategy
A corporate-level strategy is a plan made by a company to see which organizations they interact with over a given period. A corporate-level strategy can be used by a small business to increase its profits over the next fiscal year, whereas a large corporation can be overseeing the operations of multiple businesses to achieve more complex goals like selling the company or entering a new market.
Types of corporate-level strategy
When you're constructing your company's corporate-level strategy, you're seeking the best ways to evenly distribute resources to serve the needs of the company to complete planned objectives. It can also help you come up with a contingency plan; you remain prepared to work under unforeseen circumstances.
Let's review the different types of corporate-level strategies that you can employ:
Stability strategy: The stability strategy is when you proceed in working with clients in your industry. This strategy also assumes that your company is doing well under this current business model. Since the pathway to growth is uncertain, you should employ a stability strategy to ensure incremental progress that still brings in revenue, which includes practices such as research and development and product innovation. An example can be offering free trials of your existing products to your target audience to increase its engagement.
Expansion strategy: The expansion strategy is great for you if your company is planning on creating new products and reaching new audiences. It can also be used if you're upgrading the level of activity within your business like taking on new clients and hiring more employees. You can apply this strategy if the region you're operating in has a strong economy or if your focus is to enhance your performance. Overall, this strategy has large earnings potential for executives, which can lead to raises and expansion to employee benefits packages as well.
Retrenchment strategy: A retrenchment strategy requires you to strongly consider switching your business model. This may involve stopping the manufacturing of a product or reducing its functionality. You may need to allocate more energy to accounts receivable to ensure you're still getting payments of services you provided to maintain your organization's cash flow. This strategy is only used when the company is looking to take protective measures in keeping the solvency of the business. You should compile a SWOT (Strengths, Weaknesses, Opportunities and Threats) analysis to see which marketing you can successfully operate in.
Combination strategy: A combination strategy is a hybrid of the previous three strategies to create your business model. Its main purpose is to increase the company's performance and find out which areas of your company can grow and retract based on market conditions. This approach makes it easier for you to make adjustments to your strategy because you can be more flexible with your time and how much should be allocated to each function of your strategy.
BBSM has adopted the expansion strategy. The retail business has boomed over the decade and will continue to rise.BBSM has achieved the market foothold and has established goodwill and recognition. So, BBSM has opted for expansion. The Bhat Bhateni started off as 120 sq. ft. cold store and has expanded up to 16 outlets in the most convenient locations. It has further plans to expand in the new cities of Dharan; Ithaki .It has reached out for a higher number of customers.
2) Business Level Strategy
Business level strategies detail actions taken to provide value to customers and gain a competitive advantage by exploiting core competencies in specific, individual product or service markets. Business-level strategy is concerned with a firm's position in an industry, relative to competitors and to the five forces of competition.
Types of Business Level Strategy
1) Cost Leadership – Organizations compete for a wide customer based on price. Price is based on internal efficiency in order to have a margin that will sustain above average returns and cost to the customer so that customers will purchase your product/service. Works well when product/service is standardized can have generic goods that are acceptable to many customers, and can offer the lowest price. Continuous efforts to lower costs relative to competitors are necessary in order to successfully be a cost leader.

2. Differentiation – Value is provided to customers through unique features and characteristics of an organization's products rather than by the lowest price. This is done through high quality, features, high customer service, rapid product innovation, advanced technological features, image management, etc. (Some companies that follow this strategy: Rolex, Intel, Ralph Lauren)

Create Value by:
Lowering Buyers' Costs – Higher quality means fewer breakdowns, quicker response to problems.
Raising Buyers' Performance – Buyer may improve performance, have higher level of enjoyment.
Sustainability – Creating barriers by perceptions of uniqueness and reputation, creating high switching costs through differentiation and uniqueness.

3. Focused Low Cost- Organizations not only compete on price, but also select a small segment of the market to provide goods and services to. For example a company that sells only to the particular government or firm.

4. Focused Differentiation – Organizations not only competes based on differentiation, but also select a small segment of the market to provide goods and services.

Focused Strategies – Strategies that seek to serve the needs of a particular customer segment (e.g., federal gov't).
Companies that use focused strategies may be able serve the smaller segment (e.g. business travelers) better than competitors who have a wider base of customers. This is especially true when special needs make it difficult for industry-wide competitors to serve the needs of this group of customers. By serving a segment that was previously poorly segmented an organization has unique capability to serve niche.
5. Using an Integrated Low-Cost/Differentiation Strategy

This new strategy may become more popular as global competition increases. Firms that use this strategy may see improvement in their ability to:
Adaptability to environmental changes.
Learn new skills and technologies
More effectively leverage core competencies across business units and products lines which should enable the firm to produce produces with differentiated features at lower costs.
However, organizations that choose this strategy must be careful not to: becoming stuck in the middle i.e., not being able to manage successfully the five competitive forces and not achieve strategic competitiveness. Must be capable of consistently reducing costs while adding differentiated features.
BBSM has started by following the Cost Leadership strategy. Meanwhile, the heavy expansion and its vision to give an "all in one place" motto have further pushed BBSM to expand in other businesses. It has to expand in the retail industry as well as new location. While maintain the low cost strategy as well as provide standard quality retail supplies. So, in recent events of the strategy, BBSM has opted to use the Integrated Low cost/Differentiation Strategy. There is a mass uprise in the global competition. So, adaptability and adoption is the only key to long term sustainability.
3) Functional Level Strategy
Functional Level Strategy can be defined as the day to day strategy which is formulated to assist in the execution of corporate and business level strategies. These strategies are framed as per the guidelines given by the top level management. Functional Level Strategy is concerned with operational level decision making, called tactical decisions, for various functional areas such as production, marketing, research and development, finance, personnel and so forth.
It assists in the overall business strategy, by providing information concerning the management of business activities. It explains the way in which functional managers should work, so as to achieve better results.
Marketing Strategy: Marketing involves all the activities concerned with the identification of customer needs and making efforts to satisfy those needs with the product and services they require, in return for consideration. The most important part of a marketing strategy is the marketing mix, which covers all the steps a firm can take to increase the demand for its product. It includes product, price, place, promotion, people, process and physical evidence.
For implementing a marketing strategy, first of all, the company's situation is analyzed thoroughly by SWOT analysis. It has three main elements, i.e. planning, implementation and control.
There are a number of strategic marketing techniques, such as social marketing, augmented marketing, direct marketing, person marketing, place marketing, relationship marketing, Synchro marketing, concentrated marketing, service marketing, differential marketing and demarcating.
Financial Strategy: All the areas of financial management, i.e. planning, acquiring, utilizing and controlling the financial resources of the company are covered under a financial strategy. This includes raising capital, creating budgets, sources and application of funds, investments to be made, assets to be acquired, working capital management, dividend payment, calculating the net worth of the business and so forth.
Human Resource Strategy: Human resource strategy covers how an organization works for the development of employees and provides them with the opportunities and working conditions so that they will contribute to the organization as well. This also means to select the best employee for performing a particular task or job. It strategizes all the HR activities like recruitment, development, motivation, retention of employees, and industrial relations.
Production Strategy: A firm's production strategy focuses on the overall manufacturing system, operational planning and control, logistics and supply chain management. The primary objective of the production strategy is to enhance the quality, increase the quantity and reduce the overall cost of production.
5. Research and Development Strategy:
BCG MATRIX INTRODUCTION
The research and development strategy focuses on innovating and developing new products and improving the old one, so as to implement an effective strategy and lead the market. Product development, concentric diversification and market penetration are such business strategies which require the introduction of new products and significant changes in the old one.
BCG Matrix stands for Boston Consulting Group matrix it was created in 1968 by BCG's founder, Bruce Henderson. At the height of its success, the BCG Matrix was used by about half of all Fortune 500 companies. In the present scenario, it is still central in business school teachings on strategy.
BCG Matrix is a portfolio management framework that helps companies decides how to prioritize their different businesses. It is a table, split into four quadrants, each with its own unique symbol that represents a certain degree of profitability:
1) Question marks
2) Stars
3) DOGS
4) Cash cows
By assigning each business to one of these four categories, executives could then decide where to focus their resources and capital to generate the most value, as well as where to cut their losses.
BCG MATRIX ANALYSIS
The BCG Matrix for Bhatbhateni Supermarket will help in implementing the business level strategies for its business units. The analysis will help in identifying different business units of Bhatbhateni Supermarket fall within the BCG Matrix for Bhatbhateni Supermarket
Stars
The Strategic business units with high market growth rate and high relative market share fall under Stars category. Stars occupies high market share and has the highest market growth rate.
Bhatbhateni has the highest inflow of customer in the Grocery, Clothing & gift Section. The market for the groceries will never diminish and the business strategies of Bhatbhateni allow maximum occupation of the market. The reason: being convenient location and the convenience itself. The monopoly situation of Bhatbhateni has added competitive advantage. It is highly advised to improve its distribution chain and expand on more prominent market location.
Question Marks
The Strategic business units with high market growth rate and low relative market share falls under Question Marks.
Bhatbhateni houses a huge electronic section as well as Kids section. A huge selection of different brands of electronic appliances is present. In spite of its huge inventory, major market share are occupied by the retail stores of different brands. There is higher competition regarding the electronic segment. It is highly recommended is to undergo market penetration strategy, where it pushes to make its product present on more outlets
Dogs
The Strategic business units with low market growth rate and low relative market share are the dogs.
Bhatbhateni has a dedicated sports section. There are sparse amount of sport related items. It is surveyed that there is a boom in sport related market in a specific time frame. In addition the sports market is highly acquired by the retail outlets. So, Bhatbhateni is recommended to push for extravagant push strategies during the peak sports time frame and on the off time, it needs to provide limited investment in the sports section.
Cash Cows
The Strategic business units with low market growth rate but with high relative market share falls under the Cash cows category.
The Private Brand outlets can be considered as the Cash Cows. There are dedicated sections for different categories of items. In addition there are few stalls and sections reserved by the private brands of products. The stalls of watches, Ice Cream, Jewelry etc. fall under cash cows. The private brands try to maintain their outlets in malls and high inflow location, which is accommodated by Bhatbhateni.
Strategic Alliances
Strategic Alliance is an agreement between two or more parties to pursue a set of agreed upon objectives needed while remaining independent organizations. Normally, two companies form a strategic alliance when each possess business asset or have expertise on a particular subject thus enhancing their businesses. Strategic alliance can assist the companies to attain mutually desired outcomes.
Bhatbhateni has signed on multiple Business agreements with different business entities.
1) Alliance with Standard Chartered Bank
Standard Chartered Bank is one of the few international banks present in Nepal. It has contributed in value addition among the customers of Bhatbhateni.
Standard Chartered Bank has issued a co-branded Visa Platinum credit card called 'Labh' with Bhatbhateni. It will offer attractive cash backs and discounts to the co-branded credit cardholders at all Bhatbhateni outlets. Standard Chartered 'Labh' credit cardholder will be entitled to 25 per cent cash back on the first transaction made at Bhatbhateni outlets.
2) Alliance with Khalti
Khalti Digital Wallet is one of the most prominent online Payment platforms. It has a wide array of customers and its market share is growing exponentially.
Khalti has signed an agreement with Bhatbhateni Money Transfer (BMT) to provide domestic remittance services to its users across Nepal.
With this partnership, Khalti has introduced a dedicated Remittance icon in its app and website. Khalti app's remittance feature helps to find a convenient location among Bhatbhateni outlets and 2500+ BMT remittance agents across Nepal, and check the remit status of the amount they sent. After the successful transfer, a PIN is generated automatically and sent to the receiver through SMS. Recipients can visit the specific Bhatbhateni supermarket or BMT agent and show the PIN to collect money.
Business Growth Strategy
The business prospect and the rise in Bhatbhateni can be attributed to the rapid growth in the retail industry itself. It has focused on the Low cost strategy and has opted for higher market penetration and reach. It has focused on reaching the customer range from middle economy-upper middle economy class of consumers. It has created an area of dominance and has no competitor except few. But in the future, it will change.
Now, Bhatbhateni needs to carry on by adopting a new approach. It needs to maintain its low cost strategy as well needs to expand. Diversification is the new strategy and Bhatbhateni has started to venture in new market of Agriculture. It has started by drafting plans for Farmer's co-operative and agro sector.
References
Bhat-Bhateni Supermarket and Departmental Store. (n.d.) Company Overview [online]. [Accessed 16 May 2018]. Available at: <http://www.bbsm.com.np/corporate/company-overview/>.
Bhat-Bhateni Supermarket and Departmental Store. (n.d.). Product [online]. [Accessed 16 May 2018]. Available at: <http://www.bbsm.com.np/product/>.
Bhat-Bhateni Supermarket and Departmental Store. (n.d.) Expansion Plans [online]. [Accessed 17 May 2018]. Available at: <http://www.bbsm.com.np/corporate/expansion-plans/>.
Business Study Notes. (2016) Low Cost Leadership Strategies [online]. [Accessed 17 May 2018]. Available at: <http://www.businessstudynotes.com/finance/strategic-managment/explain-the-cost-leadership-strategies/>.